Rod Lens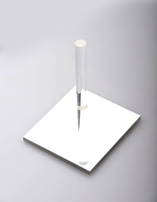 Shanghai Optics' Rod lenses are polished on the circumference and ground on both ends. They act as a cylinder lens, focusing collimated light into a line. Our fused Silica Rod Lens offers high transmission in the UV and through the NIR as well as a low coefficient of thermal expansion, 0.55 x 10E6 per °C.
Factory Standard – Contact us for manufacturing limit or custom specifications.
Substrate Material: Schott, Ohara, CDGM, Corning Fused Silica and JGS1, JGS2
Shape: Rod
Focal length: +/-1%
Surface Quality: 40-20
Surface figure: l/4 @ 633nm
Angle: +/-5″
Clear Aperture: >90% of central dimension
---
Please contact our sales engineers for your custom Rod Lens solutions today.
Call us to find out more about our services at +1 732-321-6915 or our design services team info@shanghai-optics.com directly for free initial technical consultation.
Our Optics, Your Vision!