Germanium Lens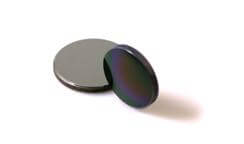 Our Germanium lenses are perfect for Mid-Infrared applications. These lenses stand up well to harsh environments and we offer the most popular sizes with Anti-Reflection Coatings. Germanium is subject to thermal runaway, meaning that the transmission decreases as temperature increases. As such, these lenses should be used at temperatures below 100°C. Germanium's high density (5.33 g/cm3) should be considered when designing for weight-sensitive systems. The Knoop Hardness of Germanium is 780, making it ideal for IR applications requiring rugged optics.
Germanium lens
High Index of Refraction
Minimal Chromatic Aberration Due to Low Dispersion
Perfect for Rugged IR Applications
Popular Sizes Available with AR Coating from 3-12μm
Factory Standard – Contact us for manufacturing limit or custom specifications
Substrate Material: Ge (Germanium)
Diameter:  5mm-350mm
Shape: Spherical Plano-Concave, P-Convex, Concave-Convex or Aspheric
Focal length: +/-1%
Surface Quality: 20-10(after coating)
Surface figure: l/4 @ 633nm
Clear Aperture: >85% of central dimension
Antireflection Coating: @ 3-12 um
---
Please contact our sales engineers for your custom Germanium Lens solutions today.
Call us to find out more about our services at +1 732-321-6915 or our design services team info@shanghai-optics.com directly for free initial technical consultation.
Our Optics, Your Vision!