Si Spherical Lens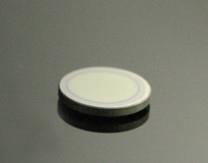 Silicon is the principal component of most semiconductor devices, most importantly integrated circuits or microchips. Silicon is widely used in semiconductors because it remains a semiconductor at higher temperatures than the semiconductor germanium. Because of its low density (half that of Germanium or Zinc Selenide), Silicon is ideal for weight sensitive applications, especially those in the 3 – 5µm region. Density is 2.329 g/cm3 and Knoop Hardness is 1150, making it harder and less brittle than Germanium.
Silicon lens
Low Dispersion and Density
Transmission from 1.2 to 7μm
Factory Standard – Contact us for manufacturing limit or custom specifications.
Substrate Material: Silicon
Diameter:  5mm-200mm
Focal length: +/-1%
Surface Quality: 20-10(after coating)
Surface figure: l/4 @ 633nm
Clear Aperture: >85% of central dimension
Antireflection Coating: @ 3-12 um
---
Please contact our sales engineers for your custom Si Spherical Lens solutions today.
Call us to find out more about our services at +1 732-321-6915 or our design services team info@shanghai-optics.com directly for free initial technical consultation.
Our Optics, Your Vision!