Precision Penta Prism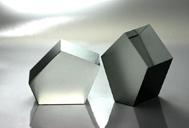 Penta Prism is often used in Plumb Level, Surveying, Alignment, Range finding and Optical Tooling.
Factory Standard – Contact us for manufacturing limit or custom specifications.
Material: BK7 Grade A optical glass, Corning Fused Silica 7980, JGS1, JGS2
Dimension Tolerance: +/-0.1mm
90 Deviation Tolerance:
Precision series: up to 2 arc seconds
Flatness: Precision series: 1/4 l at 632.8 nm
Reflectivity: R > 95% per face from 630 to 680 nm
Surface Quality: 60-40 scratch and dig
Coating: On request
Protective Bevel available
---
Please contact our sales engineers for your custom Precision Penta Prism solutions today.
Call us to find out more about our services at +1 732-321-6915 or our design services team info@shanghai-optics.com directly for free initial technical consultation.
Our Optics, Your Vision!