Standard Penta Prism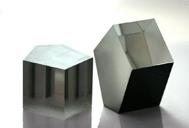 The deviation angle of 90° is thus independent of the orientation of the prism, making it especially important in applications in which the prism orientation cannot be precisely controlled. Due to geometry that total internal reflection cannot be used, the reflecting surfaces must be coated with a metallic or dielectric coating.
The Standard Penta Prism reflecting surfaces are coated with aluminum or enhanced aluminum(see Coating chapter). Sometimes, the coated surfaces are with black painting.
Factory Standard – Contact us for manufacturing limit or custom specifications.
Material: BK7 Grade A optical glass, Corning Fused Silica 7980, JGS1, JGS2
Dimension Tolerance: +/-0.1 mm
90° Deviation Tolerance:
Standard series: < 10 arc seconds
Precision series: up to 2 arc seconds
Flatness:
Standard series: l/2 l at 632.8 nm
Precision series: up to l/4 l @ 632.8 nm
Reflectivity: R > 95% per face from 630 to 680 nm
Surface Quality: 60-40 scratch and dig
Protective Bevel available
All measurements in mm
1 min. deviation
30 sec. deviation
10 sec. deviation
A x h
Part Number
Part Number
Part Number
7 x 6
PP-7*6-1M-BK7
PP-7*6-30S-BK7
PP-7*6-10S-BK7
10 x 10
PP-10*10-1M-BK7
PP-10*10-30S-BK7
PP-10*10-10S-BK7
15 x 15
PP-15*15-1M-BK7
PP-15*15-30S-BK7
PP-15*15-10S-BK7
20 x 20
PP-20*20-1M-BK7
PP-20*20-30S-BK7
PP-20*20-10S-BK7
---
Please contact our sales engineers for your custom Standard Penta Prism solutions today.
Call us to find out more about our services at +1 732-321-6915 or our design services team info@shanghai-optics.com directly for free initial technical consultation.
Our Optics, Your Vision!