UV Fused Silica Right-Angle Prism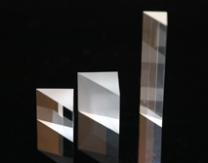 A Right-Angle Prism is used as a mirror to deviate light through 90 degree, and also as a retro reflector to deflect light through 180 degree by total internal reflection.
90-degree Deflection
90 degree deflection occurs at the hypotenuse face
The image is erected and reversed
180-degree Deflection
180 degree deflection uses with hypotenuse as the entrance and exit face
The mail application of it is used as a retroreflector provided that the plane of incident beam includes the vertex
Factory Standard – Contact us for manufacturing limit or custom specifications.
Material: UV Grade Fused Silica
Dimension Tolerance: +0.0, -0.1 mm
Clear Aperture: >90%
Flatness: l/4 l @632.8 nm
Surface Quality: 60-40 scratch and dig
Protective Bevel available
All measurements in mm
3 min. deviation
1 min. deviation
30 sec. deviation
Size
Part Number
Part Number
Part Number
A=B=C=12.7
RAP-127-3M-FS
RAP-127-1M-FS
RAP-127-30S-FS
A=B=C=25.4
RAP-254-3M-FS
RAP-254-1M-FS
RAP-254-30S-FS
Note: Coating is available upon requirement.
---
Please contact our sales engineers for your custom UV Fused Silica Right-Angle Prism solutions today.
Call us to find out more about our services at +1 732-321-6915 or our design services team info@shanghai-optics.com directly for free initial technical consultation.
Our Optics, Your Vision!