Magnesium Fluoride Spherical Lens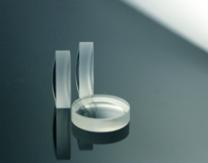 MgF2 Spherical Lenses are useful for a wide range of applications. Plano-Concave, Bi-Concave, Meniscus, Plano-Convex and Bi-Convex lenses are manufactured to exacting
As the leading optical component manufacturer from China, Shanghai Optics produces laser grade quality surface figure and surface quality. Our high standard of quality provides exceptional performance in demanding applications.
For high energy laser applications, a 20-10 Shanghai Optics Laser Quality surface figured is highly recommended as its laser damage threshold is above 1J/cm2.
These lenses are manufactured from MgF2 for UV/VIS/IR applications and are supplied coated or uncoated. Standard narrowband "V"-coat antireflection coatings are available, see ordering section below. When used to focus a collimated beam, the light should be incident on the curved surface of the lens. MgF2 lenses may be combined with other lenses to form different complex systems.
These spherical singlet lenses are manufactured from UV Grade fused silica and can be supplied AR coated or uncoated.
Please call your Shanghai Optics sales engineer for pricing and delivery details.
Factory Standard – Contact us for manufacturing limit or custom specifications.
Substrate Material: MgF2
Shape: Spherical P-Concave, P-Convex, Bi-concave, Bi-convex, Concave-Convex or Aspheric
Surface Figure: λ /4 at 633nm before coating
Surface Quality: 40-20 Shanghai Optics Laser Quality
Dimensional Tolerance: + 0.00mm, – 0.25mm
Thickness Tolerance: +/- 0.25mm
Chamfer: 0.35mm at 45° typical
Concentricity: 0.05mm
Focal Length Tolerance: +/- 0.5% typical
Antireflection Coating: User specified, R< 0.25% per surface
Clear Aperture: Exceeds central 85% of dimension
Damage Threshold: 1J/cm2, 8nsec pulse at 248nm typical
MgF2 BICX LENS
All measurements in mm
Part Number
Nominal
Diameter
193nm
248nm
308nm
Radius
F
D
F
F
F
R
TE
TC
BICX-25.4-50.6-MF
63
25.4
60.1
63.6
65.5
50.6
5.1
1.9
BICX-25.4-102.4-MF
125
25.4
120.3
127.6
131.3
102.4
3.5
1.9
BICX-25.4-154.0-MF
188
25.4
180.5
191.4
197
154
2.8
1.8
MgF2 PLCX LENS
All measurements in mm
Part Number
Nominal
Diameter
180nm
193nm
248nm
308nm
Radius
F
D
F
F
F
F
R
TC
TE
PLCX-25.4-103.0-MF
250
25.4
235
240.8
255.3
262.7
103
4
3.2
PLCX-25.4-154.5-MF
380
25.4
352.5
361.2
383
394.1
154.5
4
3.5
PLCX-25.4-257.5-MF
625
25.4
587.5
602
638.3
656.9
257.5
4
3.7
PLCX-25.4-515.1-MF
1250
25.4
1175.3
1204.3
1276.8
1314
515.1
4
3.8
---
Please contact our sales engineers for your custom Magnesium Fluoride Spherical Lens solutions today.
Call us to find out more about our services at +1 732-321-6915 or our design services team info@shanghai-optics.com directly for free initial technical consultation.
Our Optics, Your Vision!