Reverse Engineering
Many engineers that rely on optical lenses and assemblies often use standard, off-the-shelf products to meet their prototype needs. However, these choices can be limiting and expensive, especially if a supplier discontinues a certain optical lens or fails to make a product suitable for your specific application. In these situations, reverse engineering could offer a cost-effective way to get your project back on track.
What Is Optical Reverse Engineering?
Optical reverse engineering is a process optical engineers use to understand and redesign an existing optical lens or assembly. As the name implies, reverse engineering requires you to start with a finished product and work backwards, deconstructing the optic system to determine how its components produce — or fail to produce — a desired effect. After a thorough study of the system, engineers can either recreate it or redesign it to better meet a client's needs.You may decide to use an optical reverse engineering program if:
You need to replace an off-the-shelf product due to its price or availability
You don't have access to the full specifications of a lens you rely on
You want to improve an off-the-shelf lens to fulfill challenging requirements
Our Expertise can solve your optical engineering problems:
Optical design and analysis
Optical fabrication
Optical assembly and optical system alignment
Optical coating design, analysis, and fabrication
Opto-mechanical design and analysis
Optical system test equipment design and analysis
High precision optical alignment and optical assembly
A passion and persistence for high precision measurement and analysis
Reverse Engineering Program Flow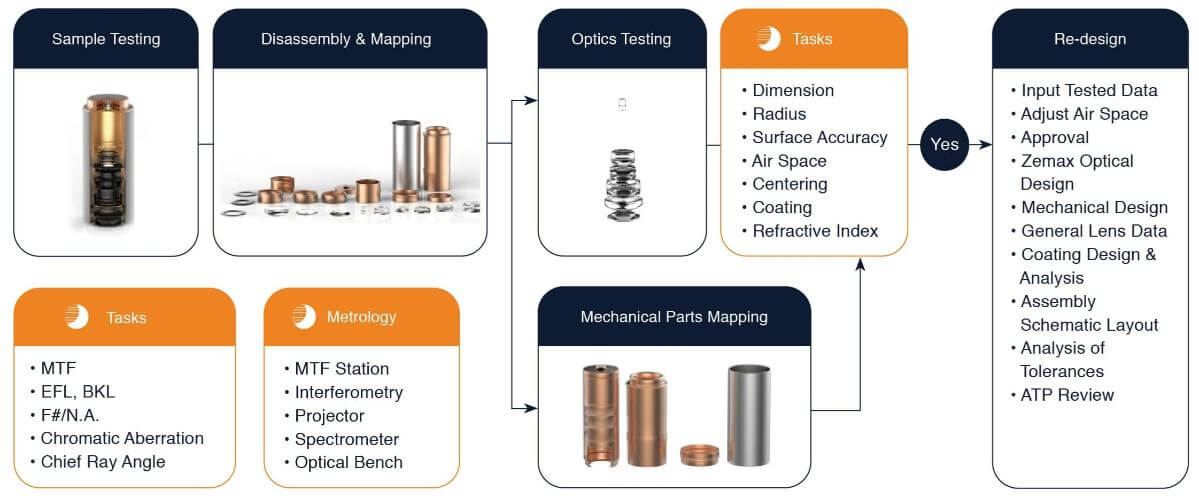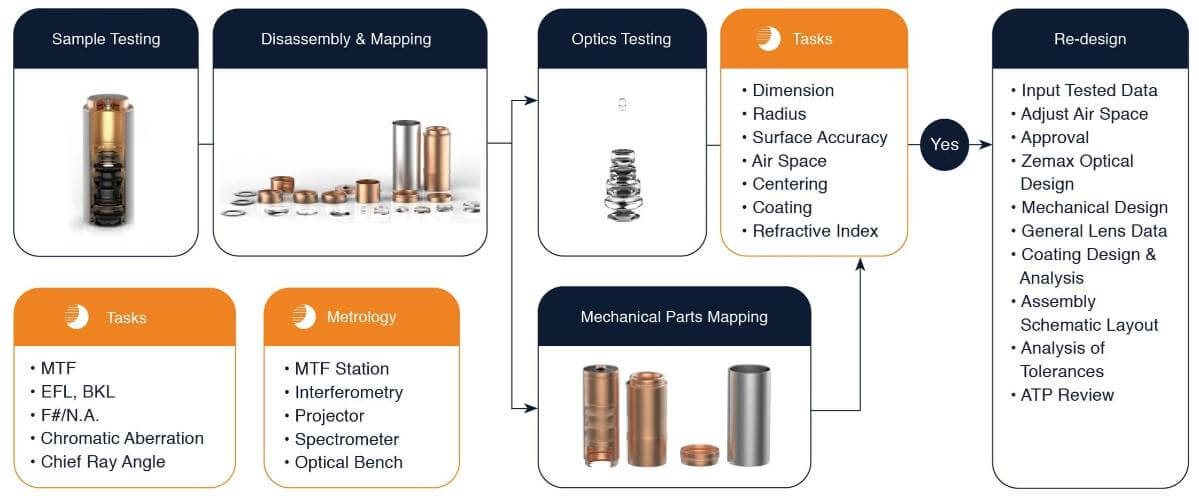 How Does Optical Reverse Engineering Work?
Optical reverse engineering uses a variety of techniques and tactics to form a complete understanding of the optical system. At Shanghai Optics, our reverse engineering process involves in-depth study of the optical lenses and lens assembly. Our reverse engineering program follows certain steps to produce reliable and useful results:
Sample testing: Our optical engineers start by testing the sample as an entire system, which gives us an idea of how effectively the system performs its intended tasks.
Disassembly and mapping: Next, we disassemble the system and study its construction. In this stage, we separate the optics from mechanical components, mapping their arrangement and attributes.
Optical characteristic measurement: After mapping the assembly, we conduct additional tests on the optics. Using a range of cutting-edge metrology equipment and analyses, we determine the dimension, radius, surface accuracy, air space, centering, coating and refractive index of every lens.
Redesign: Once we understand the optic system's construction, we can begin redesign. The techniques used in this step will differ depending on your goals for the study.
After reverse engineering the optical component and either replicating or improving the design, we'll manufacture the new system and use Modular Transfer Function (MTF) and other measurements to show how the redesign is equivalent to or can achieve better results than the original.
What Are the Benefits of Using Reverse Engineering for Optics?
When in doubt, feel free to consult our expert opinion here.
A reverse engineering program helps businesses understand, replicate and improve the optical systems they rely on. Specific benefits of reverse engineering for optics include:
Uninterrupted production: Reverse engineering an optical component gives you more control over your supply, eliminating the chance of manufacturing interruptions that can occur when a supplier discontinues or modifies an important product.
Optimized performance: With a greater understanding of your optical components, you have the ability to make improvements. If you're looking to develop a solution to a unique optics problem, reverse engineering can aid in the process.
Reduced costs: Reverse engineering and redesign can provide a lower-cost alternative to expensive off-the-shelf products from exclusive vendors.
Ownership of the design: Customers get a chance to own their unique design when S.O. complete the design and successfully build the prototype.
Though optical reverse engineering comes with many benefits, it's not the right choice for everyone. In some cases, it may be easier to 
design a custom lens
 from scratch. If you're wondering whether reverse engineering could benefit your business, reverse engineering consulting could help you determine the best course of action.
You can find more case studies on optical reverse engineering here.
Get Optical Reverse Engineering Services From S.O.
At Shanghai Optics, we have more than 57 years of experience reverse engineering, designing and manufacturing high-quality optical lenses. We've used reverse engineering to help many 
businesses find innovative solutions
 to unique optics challenges. 
Contact an S.O. representative
 today to learn more.