Ge Aspheric Lens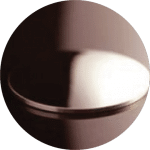 Shanghai Optics Inc. has the capability of producing both visible wavelength range Aspherical lenses and IR Aspherical lenses. We are equipped with an Optotech http://www.optotech.de/en/precision-optics CNC controlled precision polishing machine, our glass Aspherical lens manufacturing services have helped customers with different application requests to build their prototypes for system integration approval purpose with rapid lead time.
Our typical prototyping service
1) Customer with a complete design – Shanghai Optics will custom manufacture the Aspheric lens according to customer's design requirement.
2) Customer has detail technical requirements but no design –
Shanghai Optics engineers will study customer's specific technical requirements, and using Zemax lens design software (We need to link this to Zemax web site) to come up with the Asphere lens design, once we receive the approval from our customer, we can proceed with prototype manufacturing.
3) Customer has neither design nor specific requirement, but customer has a sample of an asphere component that requires reverse engineering –
Our reverse engineering method contains a mapping process, testing and measurement to receive crucial specifications and then further redesign and optimization to achieve identical optical performance.
Volume production service
At Shanghai Optics, aspherical production has been enhanced richly due to our advanced spherical polishing and engineer experience. We have over 5000 test plates which guarantee a rich radius bank where we could build your desired aspherical profiles on with a short turn over period.
Our glass inventory supports all the CDGM materials available in the market, further more Shanghai Optics Inc. also has reliable and convenient access to both Schott and Ohara's inventory.
This abundance access to glass suppliers also helps us to enable a wide selections of glass for our customers and designers.
In house metrology and coating arrangement also give our users cutting edge measurement systems, which suits all volume needs with the most appropriate arrangement to fulfill your products release schedule.
Shanghai Optics Inc. has also accumulated many years of IR Aspherical lens processing capability. Through the years, Shanghai Optics Inc. invested two single diamond turning devices both from Ametec. We process IR Aspherical substrates on Satisloh shaping & polishing machine to secure a
reliable spherical foundation and have the spherical shape tested before moving to SDPT for further manufacturing. Unlike conventional spherical shape preparation for Aspherical lenses, Satisloh machinery gives Shanghai Optics Inc. time saving advantage where no need to prepare extra grinding and polishing toolings, turns into cost effectiveness and rapid preparation timing for customers' good.
We have been offering ZnSe, Ge, Si, ZnS, GaAs, Zerodur Aspherical lenses diameter ranging from 3mm up to 4inch, with full capability of SWIR/MWIR/LWLR AR coatings and special DLC coating services. Our Aspherical products are becoming a reliable resource for customers from surveillance, defense, IR imaging, and spectral research industries.
Factory Standard – Contact us for manufacturing limit or custom specifications
Substrate Material: Germanium
Focal length: +/-1%
Surface Quality: 20-10(after coating)
Surface figure: l/2@ 633nm
Clear Aperture: >85% of central dimension
Antireflection Coating: @ 3-12 um