Calcium Fluoride is often used in spectroscopic windows and lenses due to its high transmission from 350nm to 7µm. Calcium Fluoride is also commonly found in cryogenically cooled thermal imaging systems. Its low absorption and high damage threshold make it a popular choice for excimer laser optics. Calcium Fluoride's low refractive index allows it to be used without an antireflective coating. The Knoop hardness of Calcium Fluoride is 158.3.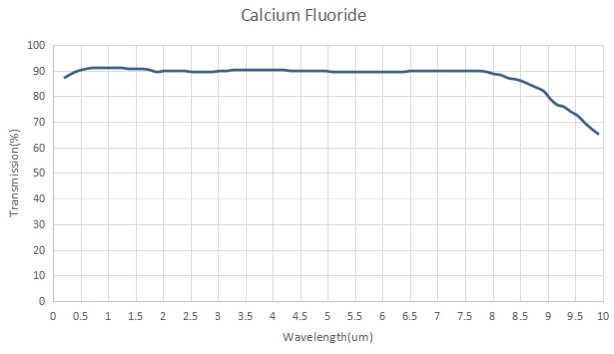 Factory Standard
Substrate Material: UV & IR Grade CaF2
Shape: Spherical Plano-Concave, P-Convex, Concave-Convex or Aspheric
Surface Figure: λ /4 at 633nm typical
Surface Quality: 60-40 per MIL-PRF-13830B
Dimensional Tolerance: + 0.00mm, – 0.1mm
Thickness Tolerance: +/- 0.1mm
Chamfer: 0.35mm at 45° typical
Concentricity: 0.05mm
Focal Length Tolerance: +/- 0.5% typical
Antireflection Coating: User-specified, R<0.25% per surface
Clear Aperture: Exceeds central 85% of dimension
Damage Threshold: 5J/cm2, 20ns, 20Hz at 1064nm
Contact us for manufacturing limits or custom specifications.
IR GRADE
All measurements in mm
Part Number
Nominal
Diameter
800nm
1064nm
2940nm
5000nm
Radius
F
D
F
F
F
F
R
TC
TE
PLCX-25.4-20.6-CFIR
50
25.4
47.8
48.1
49.3
51.6
20.6
7.4
3
PLCX-25.4-31.4-CFIR
75
25.4
72.9
73.2
75
78.6
31.4
5.7
3
PLCX-25.4-41.9-CFIR
100
25.4
97.3
97.8
100.1
105
41.9
5
3
PLCX-38.1-41.9-CFIR
100
38.1
97.3
97.8
100.1
105
41.9
8.6
4
PLCX-25.4-62.7-CFIR
150
25.4
145.7
146.4
150
157.2
62.7
4.3
3
PLCX-25.4-83.8-CFIR
200
25.4
194.7
195.7
200.5
210.2
83.8
4
3
PLCX-25.4-104.0-CFIR
250
25.4
241.6
242.7
248.7
260.7
104
3.8
3
PLCX-25.4-210.0-CFIR
500
25.4
487.8
490.1
502.1
526.4
210
3.4
3
PLCX-25.4-417.7-CFIR
1000
25.4
970.1
974.7
998.5
1046.9
417.7
3.2
3
UV GRADE
All measurements in mm
Part Number
Nominal
Diameter
193nm
212nm
248nm
308nm
Radius
F
D
F
F
F
F
R
TC
TE
PLCX-12.7-11.9-CFUV
25
12.7
23.6
24.4
25.3
23.2
11.9
3.8
2
PLCX-25.4-23.6-CFUV
50
25.4
47
48.5
50.4
52.1
23.6
6.7
3
PLCX-25.4-35.0-CFUV
75
25.4
69.8
72.1
74.8
77.3
35
5.4
3
PLCX-25.4-46.4-CFUV
100
25.4
92.5
95.6
99.1
102.5
46.4
4.8
3
PLCX-38.1-46.4-CFUV
100
38.1
92.5
95.6
99.1
102.5
46.4
8.1
4
PLCX-25.4-70.6-CFUV
150
25.4
140.8
145.4
150.9
156
70.6
4.2
3
PLCX-50.8-70.6-CFUV
150
50.8
140.8
145.4
150.9
156
70.6
9.7
5
PLCX-50.8-93.2-CFUV
200
50.8
185.9
192
199.2
206
93.2
8.6
5
PLCX-25.4-118.0-CFUV
250
25.4
235.2
243
252.1
206.7
118
3.7
3
PLCX-25.4.231.8-CFUV
500
25.4
462.2
477.4
495.3
512.2
231.8
3.3
3
PLCX-50.8-231.8-CFUV
500
50.8
462.2
477.4
495.3
512.2
231.8
6.4
5
PLCX-25.4-469.5-CFUV
1000
25.4
936.2
966.9
1003.2
1037.5
469.5
3.2
3
PLCX-50.8-469.5-CFUV
1000
50.8
936.2
966.9
1003.2
1037.5
469.5
5.7
5