Projection Lenses
Pre-Engineered Projection Lenses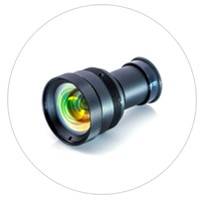 : Don't have a complete design? No problem!
Projection lenses play a prominent role in modern society. When combined with a projector, these lenses allow people to view two-dimensional images on a screen by magnifying them and throwing them onto a distant surface without sacrificing image quality.
Applications for projection lenses vary widely. They appear in places of entertainment, such as movie theaters and amusement park attractions, as well as in places of education, such as classrooms, planetariums, office meeting rooms and in training simulations. Learn more about these essential projection lenses below.
What Is A Projection Lens?
A projection lens is the part of a projector that magnifies an image and casts it onto a screen. These lenses typically feature multiple lens elements and come in two main types: zoom and fixed focus. Zoom projection lenses have multiple focal lengths, which means they can project a clear image onto screens at a range of distances. Fixed focus lenses, in comparison, can focus images at a single fixed distance. Projection lenses also come in different resolutions and depths of field for different projection applications.
Because the purpose of a projection lens is to project images for viewing, lens manufacturers and engineers emphasize image quality strenuously. To correct certain visual distortions and aberrations, your projection lens may include a number of different design features. For example, an aspherical lens may be used to correct spherical aberration, any defect that causes different parts of an image to focus at different distances. Projection lenses offer the following benefits:
Perfect or high resolution
Tight color registration
Low distortion
High brightness and focus uniformity
Custom modification
It's also important to choose a lens with the proper focal length and aperture size for your application, as these details may influence where users can place your projector while retaining a high-quality image.
More about Projection Lens
DLP Projector and Lens Design
Lens Construction

Digital Rear Projection Lens Sample Specs
| | |
| --- | --- |
| Focal Length | 12.5mm |
| Maximum aperture | F/2.5 |
| Imager format | 0.7″ 1280X720 |
| Transmission | 85% |
| Field angle | 72° |
| Imager circle | 18mm |
| Distortion | 0.50% |
| Relative illumination | 70% |
| Projection range | 0.7m ~ 1.4m |
| Lateral color | <1/3 pixel |
MTF Chart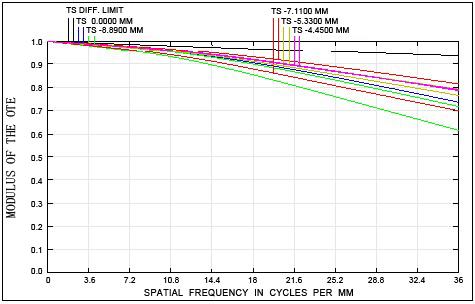 How Are Projection Lenses Produced?
The quality of a projection lens starts with the quality of its manufacturing. Like other types of optical lenses, a projection lens must meet a set of measurements very closely to perform as intended. At Shanghai Optics, we follow ISO 9001 standards and monitor quality during every step of the production process, including:
Choose optical material: We only use the highest grade of optical glass, a type of glass with high purity, undergoes a repeated heating and cooling process to ensure strength and uniformity. You may choose to use different glass mixtures depending on the unique requirements of your projection application.
Forming the lens elements: The optical glass is either molded into lenses or cut using diamond turning. After the rough lens shape is achieved, the lenses are ground and polished to a customer's exact specifications for dimension, curve, roughness and other measures. S.O. uses high-speed polishers that allow us to produce high-quality lenses 10 times faster than those using traditional lens polishing methods.
Checking for performance: Finally, the completed projector lens is assembled and tested for performance using state-of-the-art metrology equipment. (TriOptics Imaging Master).
We manufacture pre-engineered projection lenses and custom projection lenses. You might choose the latter if you need a custom resolution, registration, focal length or aperture size for your specific projection lens. You may also request consulting for custom projection lenses or engineering services if you need to solve a specific projection lens application challenge.
Order Custom Projection Lenses From S.O.
At Shanghai Optics, we have more that 55 years of experience providing custom projection lenses for established projector manufacturers in Asia, North America and Europe. Whether you need to customize a pre-engineered lens or develop a unique projection lens design, we can produce high-quality projection lenses at competitive prices.
Request a free quote from S.O. online, or contact a representative to learn more about our capabilities.