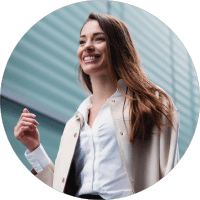 Ordering
Shanghai Optics provides custom optical solutions for customers with businesses spanning bio-research, aerospace, medical imaging, security & defense and other industries. We work with customers to create the perfect custom optical solutions, handling design, prototyping and production depending on specific application needs. Whether you need design services, optical components or assemblies, S.O. can provide a solution that meets your application needs.
As a global optics manufacturer, we try to provide convenient ordering and service for all of our customers. You can see our services, learn about our manufacturing process and order custom optical designs online from wherever you are. If you're thinking about ordering from us or working with one of our global optic consultants, this's a perfect place to start. Learn more about ordering from the optics suppliers at Shanghai Optics below.
Our Technological Advantages
When you're ordering custom optical designs, you need to find a supplier with the technology necessary to produce your optics to a high standard. When you choose custom optical engineering from Shanghai Optics, you'll gain access to our state-of-the-art design and manufacturing engineering team.
Our engineers start by designing your custom optical lens or assembly in Zemax, AutoCAD or other design software. With computer models and prototyping, we're able to optimize your lens for manufacturing as well as performance. Once you've approved our final design, we'll begin manufacturing using our in-house production equipment. We handle all aspects of production to ensure proper control over all stages in production. Once manufactured, your optics will undergo rigorous quality inspection. We use several types of metrology equipment to measure accuracy, spectrum, performance and alignment of custom optical lenses and assemblies.
What Else We Have to Offer
In addition to industry-leading design and manufacturing technology, Shanghai Optics provides a high level of customer service. When you order from us, we'll work closely with you to make sure your optical lenses meet your specifications.
Our goal is to provide custom optics that make our customers 100% satisfied. First Article Inspection allows you to test a sample of your lens before making commitments. If the sample doesn't meet your specified requirements, we'll make the necessary adjustments accordingly. We also offer worry-free returns. If you go forward with your order and the products arrive defective, we'll replace them or provide a credit or refund.
How to Order Optical Lenses
You can order custom optics and lens assemblies from S.O. in several ways. One option is to use our Build Your Own Lens form, which will require you to know some information about the optical lenses you need. Another method involves filling out our Request for Quote form, which will put you in contact with a representative who can help determine the approximate cost of your project.
Finally, you can order from our global optics consultants by contacting one of our offices directly. When you call or email us, a representative can answer your questions and guide you through the ordering process step by step.
How to Request a Quote
Requesting a quote on a custom optical manufacturing order is the best way to see what Shanghai Optics can do for you. Use the following process to easily do so:
Navigate to our online Request for Quote page
Enter your contact information, including your company, full name, email and country
Tell us about the budget, preferred delivery and specifications for your project
Report the quantities you need of each product
Upload design or other related documents, if applicable
Submit the form and wait for our reply within 24 hours
After you submit your quote request form, we'll review the specifications of your project and contact you with an estimate within 24 hours. Once you've received your quote, you can move forward with your order or talk to one of our staff members for more detailed information.
Ordering Custom Optics /Engineering Services From S.O.
Ordering custom optics/engineering services from optics suppliers should be a simple and stress-free process. With more than 55 years of experience, Shanghai Optics has the ability to provide great service as well as great products
Order the custom optical designs you need online today or contact a representative in the United States, Canada, Australia or China if you have any questions about our ordering process or production capabilities.
Thank You
Shanghai Optics would like to take this opportunity to express a heartfelt thank you to all our customers! We appreciate your trust, partnership and loyalty. We will continue to do our best to give you the customer service that you deserve.
Our business relationship with you is a vital part of our growth and for that, we are most grateful.
Thanks again! We look forward to working with you for many years to come.