Collimating Lenses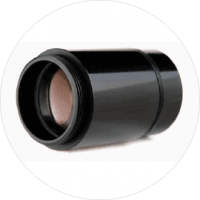 Pre-Engineered Collimating Lenses: Don't have a complete design? No problem!
Our Pre-Engineered lenses give our customers the option to choose from a variety of preliminary designs based on what suits their application best. Just tell us your required specifications (dimensions, wavelength range, etc.) and our team of expert engineers will optimize our preliminary designs to meet your exact needs. This will save you the hassle of fully designing a product from scratch and help reduce or eliminate design fees!
To learn more, please feel free to contact us at +1 732-321-6915 or info@shanghai-optics.com.
A Collimating lens is also known as laser beam expander, which it was design to achieve laser beam collimating and expanding, as well as reduce the divergence angle. The concept of Collimating lens development was based on Galileo's principles. A Collimating lens is commonly used in scientific research and laser processing applications including laser marking machines, laser cutting machines, laser welding machines, etc.
A Collimating lens can be divided to 532nm, 1064nm, 10.6um and etc in wavelength. In terms of the beam magnification, a Collimating lens can be divided to 2, 3, 4, 5, 6, 8, 10 times magnification. The wavelength of a Collimating lens from our design includes 405nm、543nm、633nm、780nm、1064nm、1310nm、1550nm、 and 2000nm. Mounting includes FC/PC FC/APC, and SMA. Shanghai Optics can customize the Collimating lens upon request by customer.
Optical Characteristics
A good collimation of the incident light
Multiples of the laser beam expander from 1.5 times to 10 times the size range
Adjustable beam expander to improve the divergence angle of up to 18~32milli-radians degree of laser beam collimation
Minimum Energy loss
Work in high-power conditions
Can be custom made according to application requirements and design
Measurement Graph: MTF vs. Frequency