Collimating Lenses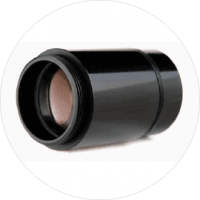 Collimating lenses, sometimes called beam expanders, are lenses designed to make beams of light run parallel to one another after passing through. With a collimating lens, the divergence angles of light waves are reduced to achieve various effects.At Shanghai Optics, we design and manufacture a number of standard and custom collimating lenses for customers around the world. Learn more about these devices and their uses below.
What Are Collimating Lenses?
Collimating lens designs typically feature a convex optical lens at one end of a tube and an adjustable aperture at the other. These devices can include one or more lenses and come in various lengths and dimensions.The main purpose of a collimating lens is to focus diverging light into parallel beams. The lens effectively catches particles traveling at various angles and adjusts their course so that they reach their destination as intended. After entering the lens, the collimated light might be altered in other ways as well — magnified or expanded to meet the needs of different applications. Laser beam expanders, for example, can magnify a beam up to 10 times.A Collimating lens can be divided to 532nm, 1064nm, 10.6um and etc in wavelength. In terms of the beam magnification, a Collimating lens can be divided to 2, 3, 4, 5, 6, 8, 10 times magnification. The wavelength of a Collimating lens from our design includes 405nm、543nm、633nm、780nm、1064nm、1310nm、1550nm、 and 2000nm. Mounting includes FC/PC FC/APC, and SMA. Shanghai Optics can customize the Collimating lens upon request by customer.
What Makes Collimating Lenses Important?
With the ability to collimate and expand light beams and decrease divergence angles, collimating lenses are essential sub assembly in many systems, including spectroscopy, fiber optic communications, scientific research and laser processing. They're frequently used in telescopes, measuring systems, laser cutting machines, laser diodes and remote sensing systems.In telescopes and other imaging devices, collimating lenses are important because they allow an operator to view distant bodies with little to no parallax, or apparent difference in the object's positioning from multiple points.In other applications, such as those that involve laser processing, the collimating lens' most important feature is its ability to minimize divergence. As collimated beams travel close to parallel, they travel further without spreading. They also make expansion possible, which is equally important for laser applications.Collimating lenses and beam expanders come with many benefits, including:
Minimized energy loss
The ability to function in high-power conditions
Increased image and measurement accuracy
Adjustable beam expander
Can be custom made
Measurement Graph: MTF vs. Frequency
How Collimating Lenses Are Produced
The typical production process for a collimating lens assembly involves manufacturing the lenses through molding or polishing, testing for accuracy and assembling alongside other components. Though the process will stay the same regardless of the type of collimating lens you choose, the purpose of the lens may influence decisions about optic glass material and other details.Because collimating lenses have a variety of applications, they can be manufactured to fit a number of specifications. At Shanghai Optics, we design and manufacture a number of different custom and pre-engineered collimating lenses for your specific application.For simple projects and fast turnaround times, S.O. can provide many different standard lenses, which feature different beam magnifications, lengths, dimensions, input diameters and output diameters. These lenses include different mounting options and wavelengths of 405, 543, 633, 780, 1064, 1310, 1550 and 2000 nm.If you're looking for a more specific solution, we can also help you with custom collimating lens design and consulting. Please contact S.O. sales team for additional information.
Custom Collimating Lenses From S.O.
Many customers use collimating lenses to solve a variety of engineering challenges. If you need custom collimating lenses, Shanghai Optics can help. We have more than 55 years of experience providing high-quality custom optical lenses to businesses around the world. As a preliminary collimating lens manufacturer, we produce quality products by following strict ISO 9001 guidelines and checking all our lenses with state-of-the-art metrology equipment.
Request a quote online
 and 
contact one of our friendly representatives
 today to learn more about the timely, high-quality results S.O. can deliver for your next collimating lens project.