Off-Axis Parabolic Mirror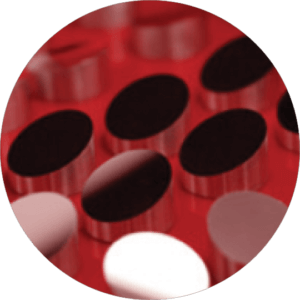 An off-axis parabolic mirror (OAP) is a type of optical mirror used in collimating light from a point source and focusing collimated light to a point. The curved shape of these mirrors makes them ideal for maximizing light collection, which is why OAP mirrors often appear in reflecting telescopes and other pieces of sophisticated instrumentation.
At Shanghai Optics, we design and manufacture custom and standard off-axis parabolic mirrors for companies and institutions around the world. Learn more about these important optical mirrors below.
What Is an Off-Axis Parabolic Mirror?
A parabolic mirror is a reflector in the shape of a circular paraboloid. A standard parabolic mirror centers on the vertex of the paraboloid, the point where the curvature is greatest and where the paraboloid is symmetrically divided by its axis. An off-axis parabolic mirror is a section of the parent paraboloid taken from a part other than the center axis.
Depending on how far away from the axis the section originates, an off-axis parabolic mirror can feature a large or small angle, though the curvature will always be less than it is at the axis.
What Makes Off-Axis Parabolic Mirrors Important?
Though off-axis and true parabolic mirrors both collect and focus light effectively, OAP mirrors solve a problem associated with their parabolic parents.
When a parabolic mirror collects collimated light and focuses it to a point, typically a receiver, the receiver casts a shadow onto the paraboloid's vertex and blocks that part of the mirror from reflecting light. This shadow results in signal loss and adversely affects the performance of long-range and precision instrumentation.
To reduce or eliminate shadowing, many people choose off-axis parabolic mirrors for their applications. These mirrors focus light to offset points outside the collection area, allowing them to collect and focus all the light they encounter. Though reduced shadowing may seem like a small improvement, it can have a big impact, especially in collecting light from distant sources.
How Are Off-Axis Parabolic Mirrors Produced?
Manufacturers can produce off-axis parabolic mirrors in several ways. One method involves using a rotating furnace to form the mirrors from a molten base material. A simpler way is to cut and shape the off-axis paraboloids from metal blanks. At Shanghai Optics, we use the latter method to produce high-quality standard and custom OAP mirrors quickly.
To provide the best results, we hand-polish our parabolic mirrors from large aluminum blanks and finish them to an accuracy of 1/20 lambda RMS. Our standard mirrors come in diameters between 2.5 and 10 inches and curvatures 15, 30, 45 and 60 degrees off-axis. We also provide off-axis parabolic mirrors in custom sizes and coatings upon request, so you can find an OAP mirror to meet your exact project requirements.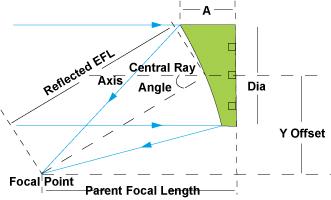 Formula

Off-Axis Parabolic Mirror Factory Standard – Contact us for manufacturing limit or custom specifications
| | | |
| --- | --- | --- |
| Specification | Dimension | |
| | | |
| Material | | Aluminum |
| Diameter tolerance | mm | +0, -0.2 |
| Focal length tolerance | | +/- 1 % |
| Off-axis distance tolerance | mm | +6, -0 |
| Surface accuracy | | 1/10 lambda RMS |
| Surface quality | | 60-40 |
| Note | | Optics design available upon request |
Specification
Dimension
Part Number
OAPM-15-10
OAPM-30-20
OAPM-45-10
OAPM-60-20
Type
15° Off-Axis
30° Off-Axis
45° Off-Axis
60° Off-Axis
Diameter
mm
25.4
50.80
25.4
50.8
Effective Focal Length EFL
mm
387.60
54.45
148.79
135.45
Y Offset
mm
3.95
27.20
4.14
4.62
Note
other size and custom coating are available upon request
Off-Axis Parabolic Metal Mirrors
Part Number
Focal Length
  Diameter, D
Thickness, Te
Off-axis distance,
Off-axis angle
(m)
(Inches)
(mm)
(mm)
OAD(mm)
degrees
0.5
2.5
63.5
15
60
6.9
0.75
3
76.2
15
80
6.1
1
2.5
63.5
5
60
3.4
1
4
101.6
17
110
6.3
1.25
3
76.2
15
80
3.7
1.25
5
127
20
100
4.6
1.5
6
152.4
25
100
3.8
2
4
101.6
17
110
3.2
2
5
127
20
100
2.9
2
8
203.2
33
150
4.3
2.5
10
254
45
175
4
3
6
152.4
25
100
1.9
4
8
203.2
33
150
2.2
5
10
254
42
175
2
Customized Off-Axis Parabolic Mirrors From S.O.
Off-axis parabolic mirrors effectively collect and focus light to a point and collimate light from point sources, all without chromatic aberration, spherical aberration or shadowing. With a performance higher than most parent paraboloids, these mirrors are used in a wide range of applications.
Our custom ranges of parabolic mirrors can be supplied with a full range of coatings as follows:
Enhanced Aluminium coating, 99% reflectivity for use in visible spectrum.
99.9% dielectric coating for laser use in visible spectrum.
UV aluminium/MgF2 coating for use in UV applications down to 180nm.
98.5% NIR dielectric coating for laser use in the near infra-red region.
Ion plated protected silver coating for use in NIR to 2 um.
Protected gold coating for use from 750nm to far infrared applications.
After more than 55 years of experience creating cost-effective optical solutions for clients, S.O. has the expertise and manufacturing capability to help you design and produce a customized off-axis parabolic mirror that meets your needs. Our optical engineers can provide custom off-axis parabolic mirror consulting to assist you at every stage(from design to manufacturing) of the process. Whether you're starting with an idea or a nearly finished design, we can help you get your product to market.
Request a quote online today or contact an S.O. representative to learn more about our custom off-axis parabolic mirrors and other optical manufacturing capabilities.