Off-Axis Parabolic Mirror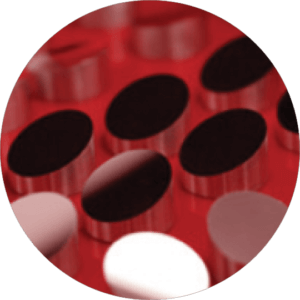 Shanghai Optics is one of top custom optical manufacturers from China. With over 55 years of experience in optics manufacturing, we provide most cost effective solutions for our customers worldwide.
Off-axis paraboloids are excellent for collimation of a point source and for collecting of light from a distant source. The focal point is located outside of the collection area so that shadowing is eliminated.
These paraboloids are hand polished from large blanks of metal. They are finished to an accuracy of

/10 and are provided with a measured interferogram. The back surface is ground so that when mounted the mirror normal bisects the angle between the focal axis and the collimated axis.
Perfect for collimating point sources
Spherical and chromatic aberration free
Standard diameters from 2.5 to 10.0 inches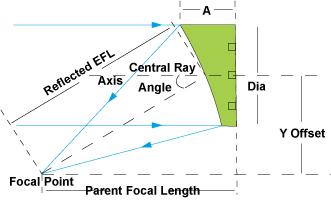 Formula

Off-Axis Parabolic Mirror Factory Standard – Contact us for manufacturing limit or custom specifications
| | | |
| --- | --- | --- |
| Specification | Dimension | |
| Material | | Aluminum |
| Diameter range | mm | off-axis x 2 + diameter </= 280 |
| Diameter tolerance | mm | +0, -0.2 |
| Focal length tolerance | | +/- 1 % |
| Off-axis distance tolerance | mm | +6, -0 |
| Surface accuracy | | 1/10 lambda RMS |
| Surface quality | | 60-40 |
| Note | | Optics design available upon request |
Specification
Dimension
Part Number
OAPM-15-10
OAPM-30-20
OAPM-45-10
OAPM-60-20
Type
15° Off-Axis
30° Off-Axis
45° Off-Axis
60° Off-Axis
Diameter
mm
25.4
50.80
25.4
50.8
Effective Focal Length EFL
mm
387.60
54.45
148.79
135.45
Y Offset
mm
3.95
27.20
4.14
4.62
Note
other size and custom coating are available upon request
Off-Axis Parabolic Metal Mirrors
Part Number
Focal Length
Diameter, D
Thickness, Te
Off-axis distance,
Off-axis angle
(m)
(Inches)
(mm)
(mm)
OAD(mm)
degrees
0.5
2.5
63.5
15
60
6.9
0.75
3
76.2
15
80
6.1
1
2.5
63.5
5
60
3.4
1
4
101.6
17
110
6.3
1.25
3
76.2
15
80
3.7
1.25
5
127
20
100
4.6
1.5
6
152.4
25
100
3.8
2
4
101.6
17
110
3.2
2
5
127
20
100
2.9
2
8
203.2
33
150
4.3
2.5
10
254
45
175
4
3
6
152.4
25
100
1.9
4
8
203.2
33
150
2.2
5
10
254
42
175
2