Broadband Dielectric Mirrors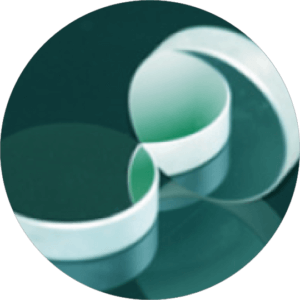 Shanghai Optics is a custom optics manufacturer with over 55 years of optics manufacturing experience. We produce high precision Broadband Dielectric Mirrors according to customer's specifications.
These mirrors have the same exceptional specifications as our laser mirrors except that they use special multi layer coatings to achieve a very high degree of reflectance for both s- and p-polarizations over a broad wavelength range. For white light or tunable laser use these mirrors provide the ultimate in high reflectance and insignificant polarization effect.
The reflectance of these coatings is consistently greater than 99.5% average. However, this figure includes very small dips in the p-reflectance which can never be completely eliminated. The s-polarization component has a reflectance greater than 99.9% over the entire range.

Factory Standard – Contact us for manufacturing limit or custom specifications.
Designs for tunable and white-light applications
Polished to Lambda/4 minimizing subsurface structure
<3 arcmin Parallelism
30-100 dielectric layer designs for high reflectance
Designed for 45 degree angle of incidence
Standard diameters from 12.7 to 50.4mm
Specifications & Tolerances
Surface flatness: Lambda/4
Reflectance: R>99.5% (45° incidence)
Surface quality: 20-10
Diameter: +0, -0.1mm
Thickness: 0.1mm
Parallelism : <3 arcmin
Bevel: 0.2mmx45° typical
Clear aperture: >90% diameter
Durability: to MIL-C-675
Material: BK7, grade A
Broadband Dielectric Mirrors
All measurements in nm
Part Number
Wavelength Range
Diameter, D
Thickness, T
(nm)
(Inches)
(nm)
(nm)
BDM-420-540-127-50-BK7
420-540
0.5
12.7
5
BDM-420-540-191-50-BK7
420-540
0.75
19.1
5
BDM-420-540-254-50-BK7
420-540
1
25.4
5
BDM-420-540-300-50-BK7
420-540
1.18
30
5
BDM-420-540-500-80-BK7
420-540
1.97
50
8
BDM-420-540-508-80-BK7
420-540
2
50.8
8
BDM-540-650-127-50-BK7
540-650
0.5
12.7
5
BDM-540-650-191-50-BK7
540-650
0.75
19.1
5
BDM-540-650-254-50-BK7
540-650
1
25.4
5
BDM-540-650-300-50-BK7
540-650
1.18
30
5
BDM-540-650-500-80-BK7
540-650
1.97
50
8
BDM-540-650-508-80-BK7
540-650
2
50.8
8
BDM-400-700-127-50-BK7
400-700
0.5
12.7
5
BDM-400-700-191-50-BK7
400-700
0.75
19.1
5
BDM-400-700-254-50-BK7
400-700
1
25.4
5
BDM-400-700-300-50-BK7
400-700
1.18
30
5
BDM-400-700-508-80-BK7
400-700
2
50.8
8
BDM-700-1000-127-50-BK7
700-1000
0.5
12.7
5
BDM-700-1000-191-50-BK7
700-1000
0.75
19.1
5
BDM-700-1000-254-50-BK7
700-1000
1
25.4
5
BDM-700-1000-508-80-BK7
700-1000
2
50.8
8
BDM-800-1200-127-50-BK7
800-1200
0.5
12.7
5
BDM-800-1200-191-50-BK7
800-1200
0.75
19.1
5
BDM-800-1200-254-50-BK7
800-1200
1
25.4
5
BDM-800-1200-508-80-BK7
800-1200
2
50.8
8