Freeform Optics Overview
A freeform optical component is not symmetric around its optical axis. It provides some attractive features to optical designers to correct multiple aberrations with fewer optical surfaces, and make the system more compact and have less weight. Freeform optics brings great advantages to system integrations and has broad applications in various fields including illumination, aerospace, biomedical engineering, green energy, optical imaging, automobile, etc.
A freeform optical component used in imaging systems is designed to improve the optical performance by eliminating the optical aberrations. A freeform optical component used in illumination systems is designed to increase the light energy efficiency by controlling the light intensity distribution. A freeform reflector can also be used as drive-side mirror for an automobile that provides a large field of view. Lenses and mirrors with a complex shapes or freeform surfaces are needed for the devices that require easy system integration and /or light weight and/or compact size.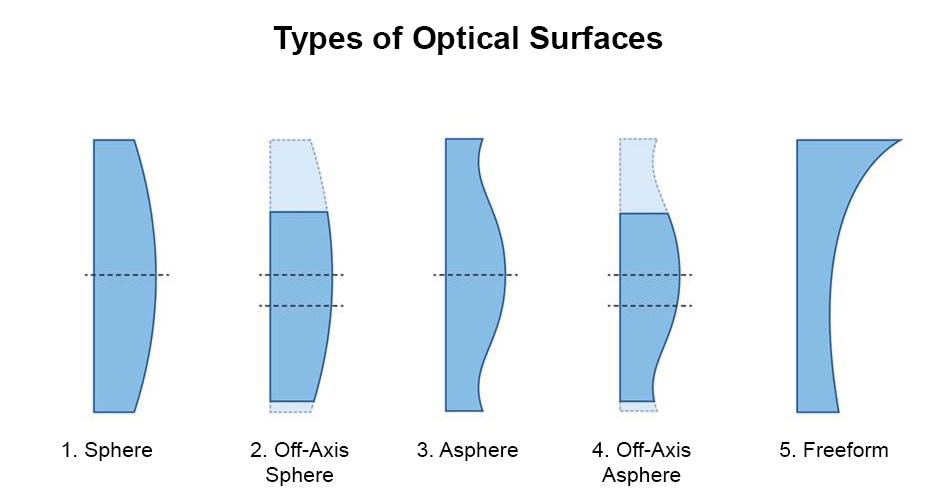 Figure above: Types of Optical Surfaces.
Understanding Freeform Optics
A freeform optical component is generally defined as an optical component which is not translationally or rotationally symmetric. Freeform optical surfaces are typically described by general XY polynomials. Freeform optical components are complex parts with more degrees of freedom than the typical spherical optic.
While a standard optical surface is rotationally symmetric, a freeform optical surface does not have constrains on the surface shape. This brings unique advantages in improving the optical performance and reducing the device size. Freeform optical surfaces are more difficult to manufacture, the traditional process of optic manufacturing— standard grinding, polishing, and precision turning—cannot generate a freeform surface. We use special processes (including single point diamond turning) to fabricate freeform optical components. The freeform lens/mirror substrate opinions include metal materials, plastic materials, germanium (Ge), calcium fluoride (CaF2), magnesium fluoride (MgF2), zinc selenide (ZnSe), Zinc Sulfide (ZnS), gallium arsenide (GaAs), silicon (Si), etc.
Freeform Optics at Shanghai Optics
Fabricating and testing freeform optics need sophisticate fabrication equipment and precision metrology. Shanghai Optics utilizes advanced manufacturing techniques (including CNC machine tools and single point diamond turning) to create high quality freeform optics and state-of-art metrology (including surface profilers, interferometers, and computer-generated holograms) to verify the optical components.
Our engineering team would be happy to work with you in the optical design and manufacturing and testing of the optical components or optical systems, whether that would include spherical optics, aspherical surfaces, or freeform optical surfaces. Please contact us to discuss your custom order or to receive a current price quote on in-stock optical components.