Zoom Lenses
Pre-Engineered Zoom Lenses: Don't have a complete design? No problem!
Our Pre-Engineered lenses give our customers the option to choose from a variety of preliminary designs based on what suits their application best. Just tell us your required specifications (dimensions, wavelength range, etc.) and our team of expert engineers will optimize our preliminary designs to meet your exact needs. This will save you the hassle of fully designing a product from scratch and help reduce or eliminate design fees!
To learn more, please feel free to contact us at +1 732-321-6915 or info@shanghai-optics.com.
Optical Characteristics
Low Distortion and Day/Night Options
Focal Lengths from 10mm – 90mm or others
C- and CS-Mount Versions
Our High Resolution Varifocal Lenses are the most ideal choice when you need a specific field of view that requires a non-standard focal length. They make system integration straightforward while allow fine tuning, and also create the flexibility so they can be integrated across multiple applications. Day/Night varifocal lenses are the perfect choice when you need to extend your imaging system into the Near-Infrared without sacrificing visible imaging.
Motorized Zoom/Focusing Lens (with electromotor and controller) can be integrated into exiting system with specific motor selection by customers that will enable basic operations of zoom, focus and iris, with options of manual iris, rotatable mount, zoom lock adapter etc.
Lens Layout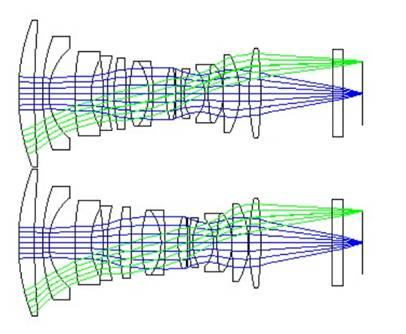 MTF Chart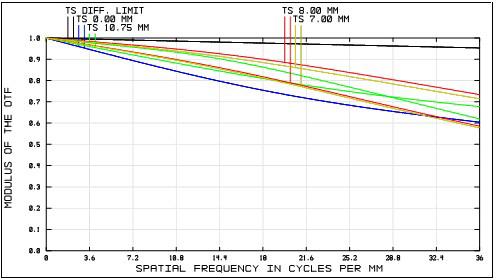 Digital Projection Zoom Lens
| | |
| --- | --- |
| Focal Length | 19.3-22.6mm |
| Maximum aperture | F/1.7(wide)-2.2(tele) |
| Imager format | 0.63″ LCD 1280X768 |
| Zoom ratio | 1.2 |
| Field angle | 56° |
| Imager circle | 21.5mm |
| Distortion | 1.50% |
| Relative illumination | 80% |
| Projection range | 1~infinity |
| Lateral color | <0.7 pixel |