Molded Plastic/Acrylic Aspheric Lens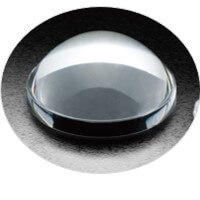 Plastic/Acrylic Aspheric lenses are less costly and lighter than glass elements. For most applications, plastic optical components can meet the most demanding optical requirements, but at a much lower price than glass lenses. Our precision injection molding technique combined with specialized skills allows us to produce a variety of plastic optics. Plastic lenses can be coated. A number of different coatings are available that can improve abrasion resistance and minimize reflections.
Shanghai Optics offers custom designed molded and polished plastic aspheric elements for a wide variety of illumination and imaging applications. Quality assurance is guaranteed through our modern production line and inspection instruments, which ensures all components are fabricated and coated in a consistent manner.
Factory Standard – Contact us for manufacturing limit or custom specifications.
Substrate Material: Plastic/Acrylic
Mold and polishing
Prescription Information Available
High Numerical Aperture Designs for Superior Light Collection
| | | |
| --- | --- | --- |
| | Classic | Best |
| Diameter: | ±0.1mm | ±0.03mm |
| Thickness: | ±0.1mm | ±0.03mm |
| Form error (spherical): | Power 5 lambda/Irr 1lambda | Power 1 lambda/Irr 1/4 lambda |
| Form error (aspherical): | P-V < 2µm | P-V < 0.5µm |
| Decenter: | 3′ | 1′ |
| Roughness: | Ra 0.005µm | Ra 0.003µm |