Opto-Mechanical Design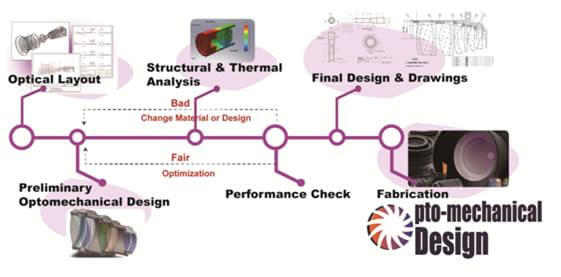 At Shanghai Optics, our experienced team of optical designers and engineers work closely to produce high precision optical elements to achieve our customers' overall system requirements. With Shanghai Optics' vertically integrated capability and production networks, we are confident in our ability to create and execute plans from the initial concept and prototyping stage to the final product. We use the following software for opto-mechanical design projects: Solid works, Auto-CAD, Pro-E, and CAXA.
Shanghai Optics' opto-mechanical design criteria are based on the following:
Working environment
Structural design
Kinematic Design
Thermal Environmental Design
Vibration Analysis
Integration Design and Analysis
Based on the working environment and application chart above, our opto-mechanical engineering team can perform accurate analysis at the initial RFQ stage. Using our understanding of the actual difficulty of building specific systems, our optical and mechanical designers and engineers are able to bring environmental factors and variables into consideration at a systemic level.
From the design stage to the final production phase, our experienced engineers can effectively avoid any future functional failure due to environmental and other foreseeable factors.
Our Advantages
Improve system stability from the component design
Resolve opto-mechanical constraints through kinematic design and analysis
Heat-resistant design through temperature control design and passive compensation scheme
Minimize vibration damage to precision optical instruments through vibration control
Type of Metal Materials
Aluminum Alloy: There are many brands and types of optical mechanical components available. Black-oxidized surface treatment is also available.
Copper: As thermal conductive materials, screws and abrasion-resistant materials.
Indium steel: Good thermal stability among metal alloys.
Stainless steel: Widely used for structural parts, particularly for vacuum instrumental design and manufacturing. We need to take extra caution when processing small threaded diameter barrels.
Titanium: high stability and light weight, but difficult to process; it is used in many high end and special applications.

Bonding technology is widely used in modern optical designs to reduce the weight and volume of the instrument and to achieve a compact and more streamlined design.
---