Medical Optics Design
Optics is playing a key role in nearly every modern diagnostic advance, and devices that rely on optics are extensively used for medical research, diagnostics and treatment. Shanghai Optics is proud to manufacture high quality optics for medical devices and applications, and we are able to work with your team to design and produce custom medical device optics to fit your specific needs.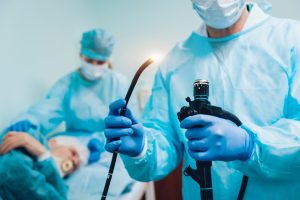 Our optics are used in medical and clinical research laboratories worldwide, in medical diagnostic applications (including micro endoscopy, optical coherence tomography (OCT), and PCR instruments), and medical treatment applications such as robotic surgery, and laser based ophthalmology. High performance optics in medical devices enable medical professionals to use most advanced techniques and provide the best diagnostic and treatment to those in need of help.
Medical Optics Introduction
A brief introduction on Design of Medical Optics, Medical Device Assembly and Optics for Medical Devices from Shanghai Optics.
Challenges to Medical Optics Production
Producing optics in medical devices has its own unique difficulties and challenges. Each optical component must be correctly designed, properly manufactured, and produced to ensuring that medical devices provide reliable and repeatable results with high accuracy in various environments. At the same time, optics in medical devices are often used in time-sensitive applications where a quick manufacturing turnaround is essential. A third factor that plays into medical device optics is cost, as neither medical providers nor treatment recipients are able to absorb high equipment bills.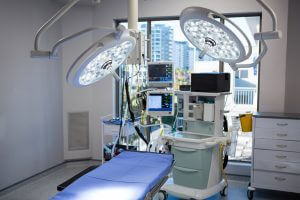 Cost
While taking shortcuts is never permissible, medical services do have a unique sensitivity to the cost of optics used in medical diagnosis and treatment, which is often of necessity passed down to the individual receiving care. Medical research, while more flexible, finds itself under similar budgetary constraints.
At Shanghai Optics we work to ensure that each of our medical device optics are produced in a cost-efficient, budget sensitive manner. Extensive design and engineering experience combined with in-house manufacturing equipment allows us to achieve some of the highest benefit-cost ratios in the industry. Our design and engineering team, with more than 60 years of experience in medical device optics, is available to consult with you about the most cost effective manner to achieve your goals.
Timeline

Development of medical treatment devices and medical research is often conducted under strict time constraints. Not only does Shanghai Optics carry a wide selection of ready-to-ship lenses, filters and other optics for medical devices, we specialize in quick turnaround on custom medical optics orders.
While optical design and manufacturing process for advanced medical devices and applications is complicated and involves many steps, our design and engineering team can work with you to create the custom design and manufacturing process for producing the medical optics with high quality and in a short time, and help you accelerate the product development plans.
Performance

Fully reliable, high performance medical optics are crucial to both laboratory and clinical applications, as  equipment failure could obscure key research findings and, in the case of clinical optics, lead to catastrophic results.
For making medical device perform with high accuracy, optical components — the lenses, beamsplitters, mirrors, and filters in the devices — must be designed and manufactured to the highest standards, then assembled precisely.  Opto-mechanical design, material selections, and optical coatings must be chosen for increasing the medical device optical performance.  Our design engineers are able to work with you on the system performance analysis and design optimization, and our manufacturing team will ensure each and every medical optical component meets all of your requirements.
Standards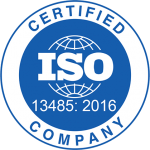 Medical optics are highly regulated, as reliably functioning is a basic requirement of a medical device. Shanghai Optics is ISO 13485 certified, which means our quality management system has demonstrated its ability to produce high quality medical optics and medical device assembly that consistently meet customer requirements as well as satisfying all regulatory requirements.
Our state of the art metrology equipment allows us to ensure every medical optical component produced or assembled at our factory fully meets all relevant standards and will perform as expected in medical research, diagnostic or treatment applications.  We are also able to run custom validation process as desired.
Applications of Optics for Medical Devices: Two Examples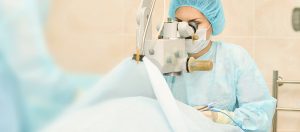 One example of the use of optics in modern medicine is in laser-assisted cataract surgery. This precision surgery begins with noninvasive 3D imaging of the retina using optical coherence tomography (OCT) technique.  The OCT uses a broadband laser light source and precision scan lens to provide cross-sectional images of the eye, and these detailed images give a deep understanding of the anatomy of the eye to the surgeon. Based on these images, the surgeon determines the ideal location, depth and length of the corneal incision, which can be made by laser.
Once the incision has been made, a laser device is used to shatter the cataract, and the pieces are suctioned out through the incision. The final step of the surgery procedure involves the placement of an artificial intraocular lens (IOL) into the exact position of the original natural lens was in the untreated eye.
Another example is using optics in PCR devices and fluorescent microscopy that form the gold standard diagnosis for COVID infection in individuals. DNA from an individual sample is amplified through a reverse transcription polymerase chain reaction (RT-PCR), then tagged with fluorescent dyes.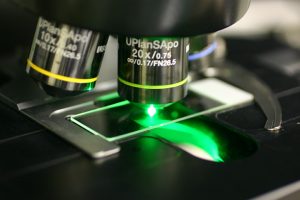 The next step involves using sophisticated fluorescent microscopy techniques to determine the presence — or absence — of the SARS-CoV-2 virus which causes COVID-19. Correctly designed optical components (including light illumination optics, dichroic mirrors, lenses, and optical filters) are used in the PCR device and fluorescent microscope to manipulate the light, illuminate the sample and focus the emitted light onto a detector or image sensor.
Medical Device Optics at Shanghai Optics
Shanghai Optics is proud of our 60+ year history advancing medical research and saving lives through medical optics design.  Our optical design and engineering team is available for discussing your specific medical optics design needs, and we can walk you through the process of designing, prototyping, and manufacturing optics for medical devices and applications and medical device assembly to your specification. Please contact us for a free introductory consultation or most effective custom solutions.