Microscope Objectives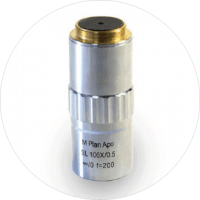 Shanghai Optics specializes in custom design and manufacturing Microscope Objective lenses for scientists, researchers and OEMs who require solutions for super resolution applications that cannot be satisfied by off-the-shelf Microscope objective lenses. Objectives allow microscopes to provide magnified images and are the most complex component in a microscope system because of their multi-element design.
Pre-engineered microscope objective design
iPLN APO Series
mPLN Fluor DIC Series
ePLN Fluor DIC Series
Plan Achromatic
Plan Achromatic – DW-PD Model
Plan Achromatic – DW-PD Model 2
Plan Achromatic – Oil, Water, Dry Plan Achromatic
Plan Fluorescence
Metallographic Long Working Distance Objective
Metallurgical Bright Field Objective
Our latest customized objective: Ultra Long WD 18mm 100X Objective
Shanghai Optics designs, manufactures and assembles custom Microscope Objectives and systems for a wide range of applications. This allows users to view wavelength spans ranging from UV through visible to far-IR.
We offer rapid design and prototyping services. We work with all types of optical glasses (Schott, Ohara, CDGM, Corning, JGS1, JGS2) and all types of crystals.
Our practical designs and DFM (Design for manufacturing) input result in solutions that are one of the most cost-effective in the photonics industry.
Our custom Microscope Objectives are designed to be compatible with any manufacturer's stock tube and scan lenses. We also offer custom scan and objective lens sets to fit your exact specifications. Our custom Laser Focusing Objectives, along with the UV Imaging lenses and UV Microscope Objectives are tailored to suit your exact needs.
We manufacture high power long-working-distance objectives with all glass achromatic designs, which can be used as fiber couplers, spatial filters, and other relay applications. Special services such as diopter adjustment and indicating needles can be provided. RMS threads and C-mount rings are also available for added versatility.
Benefits
Custom made to your needs
Design and prototype services offered
Materials available Schott, Ohara, CDGM, Corning, JGS1, JGS2 and crystals
Cost Effective
Compatible with many stock tub and lens
Ability to produce objectives with

Lower wavefront distortions
Higher transmissions and damage thresholds
Larger input apertures
Long working distance
Higher N.A.

Special Services: Diopter adjustment and indicating needles
Applications
Multi-photon Microscopy
UV Metrology and Microscopy
Spatial Filtering
STED Microscopy
Deep Tissues Imaging
Microscopy & Analysis of Quantum Structures
Analysis of Structural Materials
Live Cell Fluorescent Microscopy

---