ZnSe Lens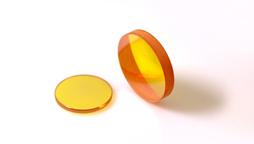 Shanghai Optics' Zinc Selenide lenses provide diffraction limited focusing performance. Ideal for focusing the output of a CO2 laser, the lenses are offered uncoated, providing excellent performance over a broad spectral range of 0.6µm to 18.0µm.
Shanghai Optics offers ZnSe meniscus, ZnSe Spherical and Cylindrical lenses. For custom sizes or configurations, please contact our sales engineer.
Factory Standard – Contact us for manufacturing limit or custom specifications.
Substrate Material: ZnSe
Shape: Spherical Plano-Concave, P-Convex, Concave-Convex or Aspheric
Surface Figure: λ/20 before coating at 10.6μm
Surface Quality: 40-20 per MIL-PRF-13830B
Dimensional Tolerance: + 0.00mm, – 0.25mm
Thickness Tolerance: +/- 0.25mm
Chamfer: 0.35mm at 45° typical
Concentricity: < 0.05mm
Focal Length Tolerance: +/- 2%
Antireflection Coating: Ravg < 0.6% per surface at 3-5μm
Ravg < 0.75% per surface at 8-12μm
Ravg < 0.5% per surface at 10.6μm
Clear Aperture: Exceeds central 85% of dimension
Absorption: <0.3% total absorption as measured by CO2 laser calorimetry
Design Wavelength: 10.6μm
---
Please contact our sales engineers for your custom ZnSe Lens solutions today.
Call us to find out more about our services at +1 732-321-6915 or our design services team info@shanghai-optics.com directly for free initial technical consultation.
Our Optics, Your Vision!