Cold Mirrors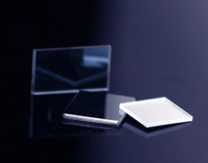 Shanghai Optics is a custom optics manufacturer with over 55 years of optics manufacturing experience. Our Cold Mirrors are perfect for applications that require high reflectance in the visible spectrum and excellent transmission in the infrared. These Cold Mirrors are manufactured using a special proprietary all dielectric coating technique that yields the most durable commercially available product. Our Cold Mirrors will pass Mil. C-675, snap tape tests and are capable of operation at temperatures as high as 600 degrees C. They will also operate and survive in extreme humidity environments.
Cold Mirrors are available from stock in one inch and two inch diameter round or one inch, two inch and four inch square configurations. Larger sheets are also available and may be cut into custom sizes.
Factory Standard – Contact us for manufacturing limit or custom specifications.
High visible reflectance
Excellent infrared transmission
Durable coatings will survive extreme heat and high humidity
| | |
| --- | --- |
| Dimensions: +0.5mm | Material: Float glass |
| Thickness: +0.3mm | Max temperature: 600 |
| Surface flatness: 3per inch | Surface Quality: 80-50 |
| AOI: 45°+/-5° | |
| Coating: | R>95% avg 420-700nm |
| | R>20% avg 800-2500nm |
Cold Mirrors
Part Number
Mirror Shape
Dimensions
"Diameter, D or Side, axb"
Thickness
(Inches)
(nm)
(nm)
Round
1
25.4
3.3
Round
2
50.8
3.3
Square
1.00 x 1.00
25.4 x 25.4
3.3
Square
2.00 x 2.00
50.8 x 50.8
3.3
---
Please contact our sales engineers for your custom Cold Mirrors solutions today.
Call us to find out more about our services at +1 732-321-6915 or our design services team info@shanghai-optics.com directly for free initial technical consultation.
Our Optics, Your Vision!