Optics for Medical Devices & Applications
Shanghai Optics is proud of our 60+ year history advancing medical research and saving lives through optics for medical devices.  Our optical design and engineering team is available for discussing your specific medical optics design needs, and we can walk you through the process of designing, prototyping, and manufacturing optics for medical devices and applications and medical device assembly to your specification.
Our engineering team has extensive experience with medical device development, and a full range of in-house manufacturing and metrology equipment that enables us to create almost any optical components you might need. If you require a more complex optical system for your medical device our experienced team would be honored to work with you to bring your designs to life.
Medical device optics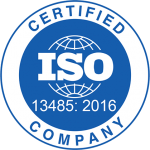 manufacturing comes with stringent requirements and unique challenges, but advanced process control and precise metrology allow us to produce high quality equipment that meet and exceed all applicable medical standards. Our systems are ISO 13845 certified, meaning we have demonstrated not only that we have the capability to produce high quality medical device optics, but also that our quality system is effectively implemented and maintained. State-of-the-art metrology equipment allows us to test the precision of each optical component and assembly, and you can have confidence that every medical device manufactured at our factory meets or exceeds all relevant standards.
Please contact us for a free introductory consultation or most effective custom solutions.