Monolithic dual-wedge prism-based spectroscopic single-molecule localization microscopy
Posted on: Thursday, July 20th, 2023 In: News & Events
A pair of wedge prisms (one with strong chromatic dispersion (WP1, N-SF11 glass, refractive index n = 1.791 at 550 nm and another with weak chromatic dispersion (WP2, N-LAF21 glass, refractive index n = 1.792 at 550 nm)) designed and manufactured by Shanghai Optics were utilized in a monolithic dual-wedge prism-based spectroscopic single-molecule localization microscopy system.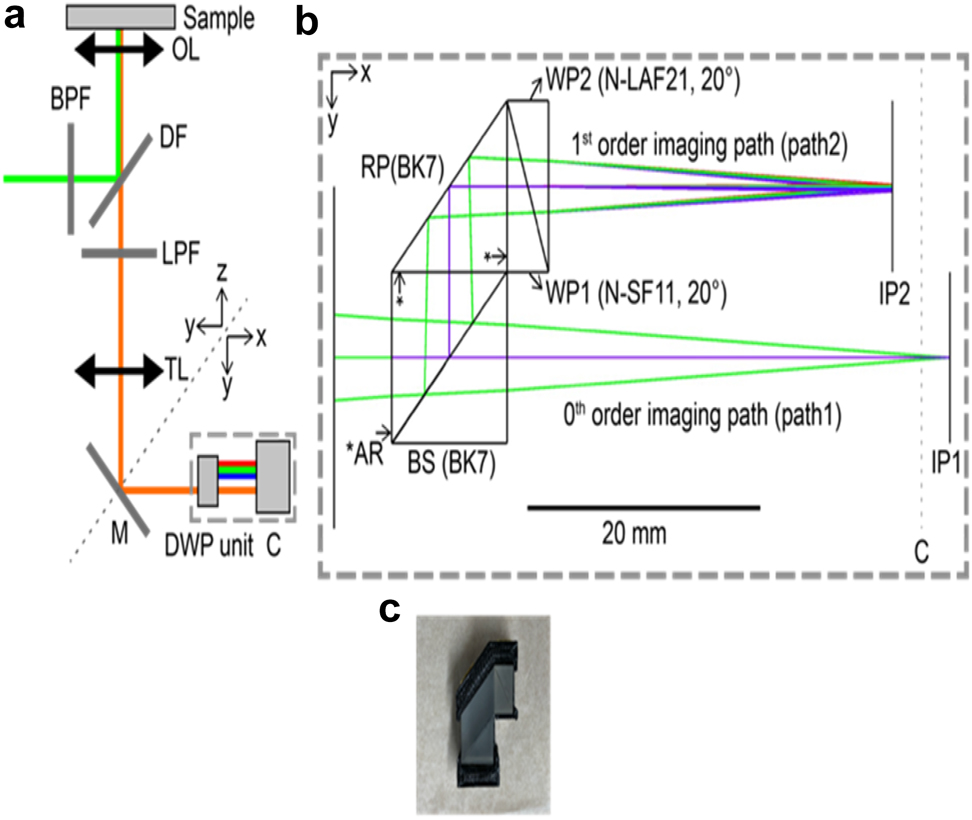 Figure 1:
3D DWP sSMLM design.
(a) Schematic of the 3D sSMLM system with the DWP unit; (b) Zemax design of the DWP unit optical assembly. (c) Picture of the DWP unit optical assembly, which consists of a customized DWP pair and a commercially available lateral beam splitter. BS: cube beam splitter; RP: right-angle prism; WP: wedge prism; AR: anti-reflection coating; OL: objective lens; BPF: band-pass filter; DF: dichroic filter; LPF: long-pass filter; TL: tube lens; M: mirror; DWP unit: dual-wedge prism unit; IP: image plane; C: camera plane.
To learn more and read the full article published in the journal, Nanophotonics click here.
Citations: Song, Ki-Hee, Brenner, Benjamin, Yeo, Wei-Hong, Kweon, Junghun, Cai, Zhen, Zhang, Yang, Lee, Youngseop, Yang, Xusan, Sun, Cheng and Zhang, Hao F.. "Monolithic dual-wedge prism-based spectroscopic single-molecule localization microscopy" Nanophotonics, vol. 11, no. 8, 2022, pp. 1527-1535. https://doi.org/10.1515/nanoph-2021-0541